There will be refreshments for you and your dog, as well as games throughout the walk and a raffle. Raffle tickets are $1.00 each for a chance to win great prizes. If you buy seven raffle tickets you get a free Dog Walk t-shirt! We will also be collecting dog and cat toys (new or used) and food to donate. All proceeds and donations will go to the Humane Society of Greater Miami. We will be meeting at the Highland Oaks Park – Entrance on NE 209th St by the lake.

COST
$5 per person
$12 per family
Dogs come free!

WHY
To raise money for the Humane Society of Greater Miami and to educate people about preventing and reporting animal cruelty

HOSTS
David Herman
Abby Plewinski
Sophia Palmeiro
Rebecca Vainstein

CONTACT US
786-310-8693
786-602-7705
786-302-1938
305-528-2833
davidryanherman@gmail.com
abbyplewy@gmail.com
sophia.palmeiro@gmail.com
rebeccavain@gmail.com

Visit our Facebook page and website

Last year over 200 people attended the Walk and we raised over $1800 for the Humane Society! This year we want to make it even bigger so please come with your dogs and invite your friends and family!
RSVP here and be sure to share the event with all of your friends!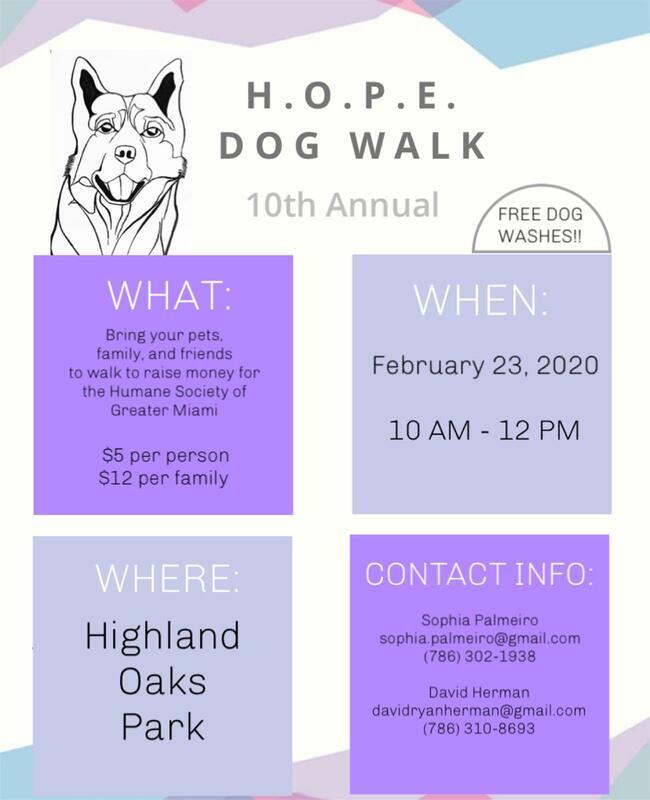 Like and follow us on Facebook and be the first to know about upcoming events and happenings in and around town!